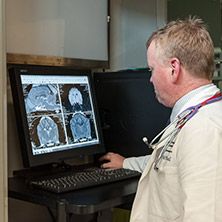 Companion Animal MRI Scans in Annapolis & Towson, Maryland
You can easily schedule an MRI scan online with the form below. Please be sure to include the supporting paperwork listed below when you submit the form. Contact our office if you have any questions or need us to provide additional services for your patient.
The information listed below must be emailed/faxed to Veterinary Neurology and Imaging of the Chesapeake at least 24 hours prior to your scheduled appointment.
Same day MRI appointments must be made over the phone.
Do NOT send the below information with the client.
Referral information required includes:

CBC/chemistry profile (measured within the past 2 weeks)
2-view thoracic radiographs (taken within the past 3 months)
Radiograph of anatomic location to be scanned ensuring patient has no ferrous objects in this area.
(Microchips are acceptable)
Please give the following forms to your client to bring to the MRI scan: MRI Forms 3, 4, and 5
All patients must have fasted for 8-12 hours prior to general anesthesia. Water is fine. For patients that have particular fasting needs (i.e. diabetics, neonates, etc.) please contact VNloC for specific fasting recommendations.
All patients will be placed under general anesthesia and have an IV catheter placed. The IV catheter will be removed after the scan. If you would like the catheter to remain in place, please let us know.
The requesting veterinary hospital is responsible for payment to Veterinary Neurology and Imaging of the Chesapeake. Payment must be made in full prior to the MRI scan. The pet owner is responsible for payment to the requesting veterinary clinic.
We understand that each case is different. If you have specific questions about pet MRI scans for our coordinator, please contact coordinator@vetimagingchesapeake.com or call 410-415-1251 ext 8.