Our Veterinary Technicians and Assistants
Susan, Registered Veterinary Technician – Receiving and ICU Supervisor
Originally from Pasadena, Maryland, and now a resident of the northern part of the state, Susan graduated from the University of Montana with a degree in wildlife biology. After she moved back to her home state, Susan worked for a general veterinary practice, a surgery referral center and an orthopedic practice before joining VNIOC.
Susan is responsible for managing the team that cares for our patients in the ICU and welcomes patients into our practice as new consultations.
Susan and her husband Jeff have a young son, Avery. They share their home with their cats, Ariel and Jellybean.
---
Nicole, Registered Veterinary Technician – Towson Manager
Nicole is a Registered Veterinary Technician and avid bulldog lover who oversees the daily operations of our Towson location. Nicole has been with VNIoC for several years and was instrumental in building the imaging programm. She is a doting mother to four dogs: Stella, Burt, Tank and Ferdinand. She is a devoted volunteer for Bullies 2 the Rescue.
---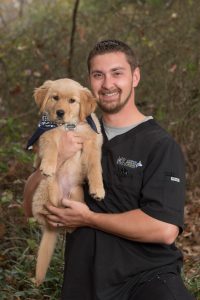 Jake, Veterinary Technician, Surgery Supervisor
Jake was born and grew up in Easton, Maryland, and graduated from Easton High in 2009. He received an AA in applied sciences from Chesapeake College two years later.
Jake started working in the veterinary field as a kennel attendant when he was just 17 years old, then worked his way up to veterinary technician. He worked for a primary care vet on the shore for nine years before starting with VNIOC in February 2017. Jake is responsible for our practice's surgery department and oversees patient care, surgical inventory and OR operations.
Jake and his wife, Melissa, have a daughter named Adeline, three cats, Suggs, Lewis and Torrey who are all 5 years old, and two Golden Retrievers named Benelli and Wesson. In his spare time, Jake enjoys outdoor activities such as hiking, bike riding and camping.
---
Nikki, Certified Canine Rehabilitation Therapist
Born and raised in Annapolis, where she continues to make her home, Nikki graduated from Bowie State University with her Bachelor's Degree in Biology in 2005. She got into veterinary medicine when the owner of a dog she walked suggested she would be good as a veterinary technician because of how well she worked with animals.
Nikki works with patients on regaining their range of motion and strength. Just as humans go through rehabilitation, so can dogs—and it can have a big impact, especially with large breed dogs. The animals can have a quicker recovery post-surgery with a better quality of life, often with less medication.
Avid about animals, Nikki has a menagerie at home that includes Ray, a tri-color Cavalier King Charles Spaniel, a Toy Poodle named May, cats Bun and CeeCee-Nix, a Yucatan Box Turtle named Tex, a Red Ear Slider turtle named Crush, and Marlin, a dwarf African frog.
In her spare time Nikki loves spending time with her two nieces and nephew, working out with a variety of fitness programs, getting involved in races, and exploring all things Harry Potter.
---
Kaitie, Registered Veterinary Technician
Kaitie is a Registered Veterinary Technician who works in our Towson location. She has two dogs named Flapjack and Poncho and is recently engaged. Kaitie has a background in emergency veterinary medicine.
---
Lindsey, Veterinary Technician
A biology major at Johns Hopkins, Lindsey wasn't sure that she wanted to go into the field after college. Several friends and family members suggested that she look into going to veterinary school since she loves animals (especially cats) so much—but it wasn't a suggestion she took seriously at the time.
Then one of her cats became ill and Lindsey took her into her rDVM, where that cat was hospitalized. She blurt out to the receptionist taking her deposit, "Do you ever hire technicians that don't have any experience?" The receptionist gave Lindsey an application, but she sat on it for nearly four months before applying.
"They hired me and the rest is history," says Lindsey. "I have been lucky to work at clinics where I am a valued part of the treatment team and can use my biology and medical background, so I haven't really felt the need to continue on to vet school—and incur the debt that comes with it! I also really love the nursing aspect of being a technician, whether it is coaxing a patient to eat or doing something to alleviate their discomfort. If I became a vet, I don't think I would get to spend as much one-on-one time with patients and I would miss it a lot. I'm still interested in learning all I can, and I go to CE conferences and classes whenever I can, especially when there are behavior-related courses."
Whenever she can, Lindsey volunteers with TNR programs (Trap-Neuter-Return), in which feral cats are humanely trapped, transported to a veterinary clinic where they are spayed or neutered, then returned to their outdoor home. In her spare time, she has also helped spay deer in Northern Baltimore County.
Lindsey, who has cats and ferrets, loves teaching her family and friends "fear-free" methods for nail trims, ear cleanings, and behavior modification; and she enjoys exploring the Annapolis area.
---
Kaytlyn, Veterinary Technician
Kaytlyn joined VNIoC in December of 2017.  She graduated from Towson University in May of 2015 with a Bachelor's Degree in Animal Ecology and Animal Biology.  She has completed two internships:  The Franklin Park Zoo in Boston, MA, where she studied Animal Management, and Second Chance Wildlife Center in Gaithersburg, MD, where she studied Wildlife Rehabilitation.
Kaytlyn is a proud mother to her son, Jackson, her eight-year-old Jack Russell/ Chihuahua mix, Todd, and her three-year-old Red- Eared Slider named Jasmine.  She enjoys spending time with Jackson, hiking, and contributing to environment conservation efforts with many charities.
---
Beth, Veterinary Technician
Beth is a Veterinary Technician in our Towson location. She is a loving mother to her daughter Norah and a talented thrift shopper. She has a very special and calming presence around our patients.
---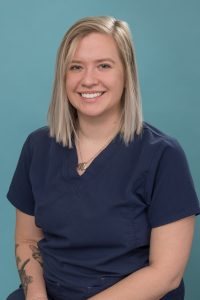 Mandy, Veterinary Technician
Mandy's veterinary career started when she was 18 and was a hired at a preventative care hospital, where she worked for 5 years. She continued to expand her career by volunteering in South Africa to work with big cats and Thailand to work with her favorite animal, elephants! She had always wanted to work with exotic species, but when her own dog, Xena (a Greater Swiss Mountain Dog) became an epileptic, her curiosity about the neurology field began.
Mandy has 2 dogs, Xena and Adaline, a cat named Sylvester, and a squirrel that she rescued named Cashew.
---
Brandie, Registered Veterinary Technician
Brandie is an adamant dog lover, especially pit bulls. She and her husband Hunter have three pit bulls and pit bull mixes: T-Rex, Zeke and Natty. Brandie, a Registered Veterinary Technician in our Annapolis location, has a background in emergency veterinary medicine and enjoys monitoring anesthesia, critical care and scrubbing in for surgeries.
---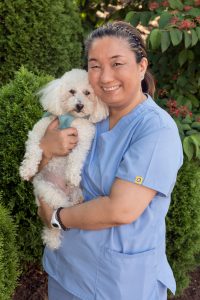 Sayoko, Veterinary Assistant
Sayoko, aka Sass, is originally from Japan and came to the United States in 1998. She has three stepdaughters and triplet sons. As a child, her parents allowed her to have various kind of pets like dogs, hamsters, birds, turtles and even a chicken. She was even in a club in elementary school that took care of school pets like small birds, rabbits and chickens.
After the death of her beloved Rottweiler,  she decided to work with animals for her career. Sass recieved her Veterinary Assitant certification at Anne Arundel Community College, then joined the veterinary field officially in 2012.
She currently has three dogs: a Dutch Shepherd named Max and Yuki, her Toy Poodle. Sass is also a mom to a cat named Leo and a canary named Tsuki, which means "the Moon" in Japanese. Sass loves spending her time reading or watching movies and loves to learn new things.
---
Michaela, Veterinary Assistant
Michaela is a Veterinary Assistant in our Annapolis location. Fun fact: Michaela loves karaoke – and she's great at it!