Our Veterinary Technicians & Assistants
Susan, Registered Veterinary Technician, Technician Manager
Originally from Pasadena, Maryland, and now a resident of the northern part of the state, Susan graduated from the University of Montana with a degree in wildlife biology. After she moved back to her home state, Susan worked for a general veterinary practice, a surgery referral center and an orthopedic practice before joining VNIOC.
In her spare time, Susan loves to read, and go hiking and kayaking with her husband. They share their home with three cats, Ariel, Thaddeus, and Molly.
---
Sarah, Lead Veterinary Technician
Sarah joined VNIOC in December 2012. "I've always liked working with animals," she explains. "I've been working in the veterinary field since 2006, and prior to that I worked in a pet store."
She continues, "I wanted to become more comfortable in specialized fields of veterinary practice. When I saw all the wonderful stories of animals that had been helped by Dr. McDonnell, it added fuel to the fire. I knew I wanted to be part of that. There's so much you have to learn in a specialty practice. It's exciting and amazing; and the vet techs inspire you to be better."
Sarah shares her life with her husband, Nathan, and her French bulldog, Franklin. Outside of work she enjoys yoga, cooking and traveling.
---
Jake, Lead Veterinary Technician
Jake was born and grew up in Easton, Maryland, and graduated from Easton High in 2009. He received an AA in applied sciences from Chesapeake College two years later.
Jake started working in the veterinary field as a kennel attendant when he was just 17 years old, then worked his way up to veterinary technician. He worked for a primary care vet on the shore for nine years before starting with VNIOC in February 2017.
Jake and his wife, Melissa, have three cats, Suggs, Lewis and Torrey who are all 5 years old, and a 3 month old Golden Retriever pup named Benelli. In his spare time, Jake enjoys outdoor activities such as hiking, bike riding and camping.
---
Nikki, Certified Canine Rehabilitation Therapist
Born and raised in Annapolis, where she continues to make her home, Nikki graduated from Bowie State University with her Bachelor's Degree in Biology in 2005. She got into veterinary medicine when the owner of a dog she walked suggested she would be good as a veterinary technician because of how well she worked with animals.
"I got my first job at a veterinary hospital after I finished college and I fell in love it," Nikki explains. "I became interested in post-surgical rehabilitation for animals after my dog had knee surgery and I wondered if there was more I could do for him. My opportunity came five years later, after I started as a technician, when my employer wanted to expand the services we were offering to include rehabilitation. I got my CCRP (Certified Canine Rehabilitation Practitioner) certificate from the University of Tennessee in Knoxville in 2010. Three years later, I made the decision to leave general practice and in January 2014, I started at VNIOC. I am so grateful for the opportunity to work for Drs. McDonnell and Harvey, and to help our patients in a whole new way."
Nikki works with patients on regaining their range of motion and strength. Just as humans go through rehabilitation, so can dogs—and it can have a big impact, especially with large breed dogs. The animals can have a quicker recovery post-surgery with a better quality of life, often with less medication.
Avid about animals, Nikki has a menagerie at home that includes Ray, a tri-color Cavalier King Charles Spaniel, a Toy Poodle named May, cats Bun and CeeCee-Nix, a Yucatan Box Turtle named Tex, a Red Ear Slider turtle named Crush, and Marlin, a dwarf African frog.
In her spare time Nikki loves spending time with her two nieces and nephew, working out with a variety of fitness programs, getting involved in races, and exploring all things Harry Potter.
---
Joey, Veterinary Technician
Joey, a Kent Island native who lives in St. Michaels, Maryland, joined VNIOC in 2014.
"I have always wanted to participate in wildlife conservation. I was offered a position at a local veterinary clinic and began to help animals and grow my abilities to help wildlife. I'm also interested in neurology, so I was ecstatic when I was offered at position at VNIOC," Joey says.
Joey received his Associates degree in Liberal Arts, with an emphasis on science, from Chesapeake Community College, and is now working on his B.S. in Cell and Molecular Biology at Towson University.
A competitive archer, avid angler, wildlife rescuer on the Eastern Shore of Maryland, and apprentice in falconry, Joey participates in earthdog trials with Solo, his Norfolk Terrier. He also has a domestic short-haired cat named Izzie.
---
Lindsey, Veterinary Technician
A biology major at Johns Hopkins, Lindsey wasn't sure that she wanted to go into the field after college. Several friends and family members suggested that she look into going to veterinary school since she loves animals (especially cats) so much—but it wasn't a suggestion she took seriously at the time.
Then one of her cats became ill and Lindsey took her into her rDVM, where that cat was hospitalized. She blurt out to the receptionist taking her deposit, "Do you ever hire technicians that don't have any experience?" The receptionist gave Lindsey an application, but she sat on it for nearly four months before applying.
"They hired me and the rest is history," says Lindsey. "I have been lucky to work at clinics where I am a valued part of the treatment team and can use my biology and medical background, so I haven't really felt the need to continue on to vet school—and incur the debt that comes with it! I also really love the nursing aspect of being a technician, whether it is coaxing a patient to eat or doing something to alleviate their discomfort. If I became a vet, I don't think I would get to spend as much one-on-one time with patients and I would miss it a lot. I'm still interested in learning all I can, and I go to CE conferences and classes whenever I can, especially when there are behavior-related courses."
Whenever she can, Lindsey volunteers with TNR programs (Trap-Neuter-Return), in which feral cats are humanely trapped, transported to a veterinary clinic where they are spayed or neutered, then returned to their outdoor home. In her spare time, she has also helped spay deer in Northern Baltimore County.
Lindsey, who has cats and ferrets, loves teaching her family and friends "fear-free" methods for nail trims, ear cleanings, and behavior modification; and she enjoys exploring the Annapolis area.
---
Kaytlyn, Veterinary Technician
Kaytlyn joined VNIoC in December of 2017.  She graduated from Towson University in May of 2015 with a Bachelor's Degree in Animal Ecology and Animal Biology.  She has completed two internships:  The Franklin Park Zoo in Boston, MA, where she studied Animal Management, and Second Chance Wildlife Center in Gaithersburg, MD, where she studied Wildlife Rehabilitation.
Kaytlyn is a proud mother to her two-year-old son, Jackson, her eight-year-old Jack Russel/ Chihuahua mix, Todd, and her three-year-old Red- Eared Slider named Jasmine.  She enjoys spending time with Jackson, hiking, and contributing to environment conservation efforts with many charities.
---
Beth, Veterinary Technician
---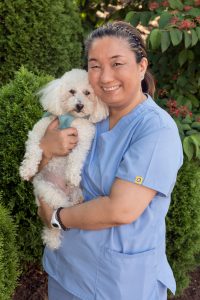 Sayoko, Veterinary Assistant
Sayoko, aka Sass, is originally from Japan and came to the United States in 1998. She has three stepdaughters and triplet sons. As a child, her parents allowed her to have various kind of pets like dogs, hamsters, birds, turtles and even a chicken. She was even in a club in elementary school that took care of school pets like small birds, rabbits and chickens.
After the death of her beloved Rottweiler,  she decided to work with animals for her career. Sass recieved her Veterinary Assitant certification at Anne Arundel Community College, then joined the veterinary field officially in 2012.
She currently has three dogs: a Dutch Shepherd named Max, a miniature Poodle named Spot and Yuki, her Toy Poodle. Sass is also a mom to a cat named Leo and a canary named Tsuki, which means "the Moon" in Japanese.
Sass loves spending her time reading or watching movies and loves to learn new things.
---
Jessica, Veterinary Assistant
Born and raised in Baltimore, Maryland, Jess spent the second part of her childhood in Severna Park and a lot of time in Annapolis.
Jess started her career with animals at 17 years old by volunteering, interning, and working in various departments at the National Aquarium. After receiving a B.S. In Animal Behavior from Towson University, she first worked as a vet tech at BARCS (Baltimore Animal Rescue and Care Shelter) as an intake technician. The department she worked in managed the influx of animals into the shelter by providing education and resources to owners to help keep pets in their homes whenever possible.
Jess went on to work at Rocky Gorge Animal Hospital in the ER and Essex Middle River Veterinary Center as a technician for primary care.
"A piece of my heart will always lie with rescue, anti-breed discrimination efforts, and overall pet ownership education/awareness," she says. "I occasionally still help out in the rescue world when time permits."
She continues, "I'm very excited about working at VNIoC and am ecstatic to have this wonderful opportunity to learn so much! I'm all about continuing to learn as much as possible and neurology is such an amazing specialty to grow in. The people here are vibrant, wonderful at what they do, and all about providing the best care possible."
Jess and her partner, Chad, have three cats—Juniper and Rey, domestic short-haired girls, and Turk, a Maine Coon mix boy—and Delilah, a pocket-bully mix dog.
---