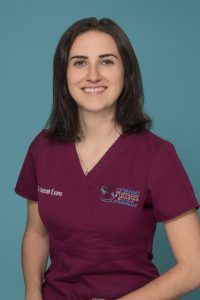 DR. HANNAH EVANS, VETERINARY ANESTHETIST – HEAD OF IMAGING
Veterinarian Hannah Evans, DVM, joined the VNIOC in September 2016, where she oversees anesthesia and the veterinary care of patients undergoing imaging.
Dr. Evans grew up in Pasadena, Maryland, and is happy to be returning to the area after receiving her DVM at the University of Tennessee-Knoxville School of Veterinary Medicine and completing her internship at the University of Wisconsin-Madison.
"I fell in love with anesthesia at vet school when I was part of the anesthesia crew. I collaborated with other students and anesthesiologists to develop anesthetic protocols for each patient," she explains. "I got to pre-medicate, induce, and intubate 1-2 animals daily, and monitored their vitals while they were undergoing the procedure. I found I wasn't interested in doing surgery so I knew I didn't want to do general practice. The opportunity here seemed ideal."
Dr. Evans recently purchased her first home, in Anne Arundel County, which she shares with her 7-year-old American pit bull, Mack. Dr. Evans also spearheads the VNIoC Wellness Initiative by providing content and resources for staff members to maintain their physical, mental, emotional and financial wellness habits.
In her free time, Dr. Evans, who is a certified writing tutor, likes to write and read, and for stress relief, bake—something the staff appreciates.
CAROL GAGNON, RT (N)(MR)(CT), IMAGING TECHNOLOGIST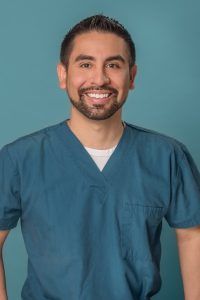 DR. JORGE POSADAS – IMAGING AND ANESTHESIA VETERINARIAN
Veterinarian Jorge Posadas, DVM, joined VNIOC in September 2020 and works in our Towson location, where he oversees anesthesia and veterinary care of patients undergoing advanced imaging.
Dr. Posadas has lived all around the country including New Jersey, Pennsylvania, Illinois, California, Virginia, and now Maryland for the second time. He studied biology at the University of Southern California, where he experienced great weather and premier college football in addition to receiving a great education. After his undergraduate studies, he worked for several years at the biotechnology company SABiosciences (now part of QIAGEN) in Frederick, MD, while taking graduate courses at Hood College. He left industry to pursue his goals at the Virginia-Maryland Regional College of Veterinary medicine in Blacksburg, VA. One of his favorite rotations there was in anesthesia, where he received hands-on experience taking patients through the entire process of anesthetization and recovery. After receiving his DVM, he was a small animal general practitioner in Northern Virginia for several years before joining VNIOC.
In his free time, Dr. Posadas enjoys being a movie buff, weight lifting, and watching college football. Go Trojans and Hokies! He has not yet been able to fully experience everything Towson and Baltimore has to offer, but over time, he hopes to take in all the sights and try out all the restaurants.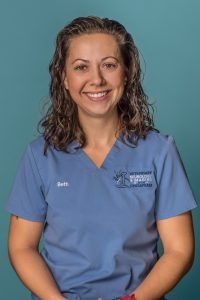 BETH, VETERINARY TECHNICIAN AND MRI TECHNOLOGIST
Born and raised in Baltimore, Beth grew up in an animal-loving family where rescuing wild animals was a common affair. She tells us, "We were the family that picked up the injured opossum after it was hit by a car, and rescued abandoned baby squirrels after a windstorm and delivered them to a wildlife sanctuary. At a young age, I had an understanding about the connection humans and animals can have. I used to just sit for hours and take turns petting all the neighbors' dogs. That was when I realized I had a passion and interest in further connecting with and helping animals."
She has put that passion into her work. When she joined VNIoC in May 2018, she already had more than a dozen years' experience, having worked in general veterinary practice and orthopedic surgery, anesthesia, and MRI.
The mother of six-year-old daughter, Norah, Beth says, "I am proud to be a valued part of a team that has the same compassion, respect, and kindness I do–and to be working and raising my daughter in my hometown."