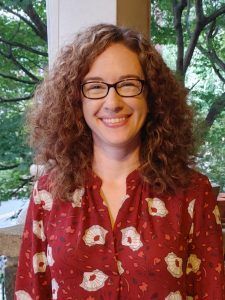 DR. ELANA RYBAK DVM, CVMA – IMAGING AND ANESTHESIA VETERINARIAN
Dr. Rybak joined the VNIOC team in August 2021 as part of the imaging anesthesia team at the Towson location, and brings a unique background to the practice. Dr. Rybak received her DVM degree from Michigan State University College of Veterinary Medicine in 2008. After a one-year general practice equine internship, she spent 6 years in an organ transplantation research laboratory at the University of Maryland-Baltimore running anesthesia for various projects. As a faculty research associate Dr. Rybak developed and consulted on anesthetic protocols for complex surgical and medical laboratory procedures for transplant and trauma research, and had the opportunity to teach medical students and surgery residents anesthesia techniques and protocols. After her time in academia, she moved on to work as a general practitioner in a small animal clinic where she also oversees and guides associates on anesthesia for routine procedures. In 2018, Dr. Rybak completed the CuraCore acupuncture program and is certified in veterinary medical acupuncture (cVMA). Dr. Rybak has a stong interest in anesthesia and pain management, and is impressed with the high level of patient care at VNIOC.
Dr. Rybak is a Michigan native but has lived in Baltimore since 2010. She spends her free time with her husband Justin, bark-tastic dog Teddy, and two cats Jackson and Cairo. Dr. Rybak also regularly volunteers with The Cats at Longstreet–a small regional cat rescue–helping with procedures and surgeries for animals in need. Dr. Rybak enjoys hiking, eating at local restaurants, is an avid horsewoman and casually competes in competitive distance trail riding.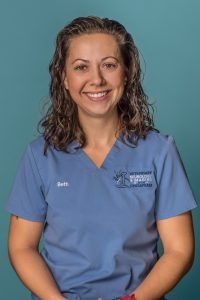 BETH, VETERINARY TECHNICIAN AND MRI TECHNOLOGIST
Born and raised in Baltimore, Beth grew up in an animal-loving family where rescuing wild animals was a common affair. She tells us, "We were the family that picked up the injured opossum after it was hit by a car, and rescued abandoned baby squirrels after a windstorm and delivered them to a wildlife sanctuary. At a young age, I had an understanding about the connection humans and animals can have. I used to just sit for hours and take turns petting all the neighbors' dogs. That was when I realized I had a passion and interest in further connecting with and helping animals."
She has put that passion into her work. When she joined VNIoC in May 2018, she already had more than a dozen years' experience, having worked in general veterinary practice and orthopedic surgery, anesthesia, and MRI.
The mother of six-year-old daughter, Norah, Beth says, "I am proud to be a valued part of a team that has the same compassion, respect, and kindness I do–and to be working and raising my daughter in my hometown."